Reading Wado Kai Karate Club

Sensei Barry Wilkinson, Chief Instructor EWKR, started the Reading Wado Karate Club at South Reading Leisure Centre in the October of 1990, when he was a 5th Dan Black Belt. Following a few months of assisting, Sensei Russell Kenyon began instructing at the club and he was awarded his 1st Dan Black Belt in 1992.

In 1994 Sensei Marcus Bowden & Sensei Janet Bowden started instructing at the club whilst they were Brown belts. Later Sensei Marcus ran the club on his own when Sensei Janet left to run the Bracknell SKW Club.
Sensei Marcus continued to run the club until 2003, when it went full circle and Sensei Wilkinson returned to Reading, instructing the club until 2004.

During 2004 Sensei Russell Kenyon returned to the area and again ran the club, during which time we relocated to the South Reading Youth & Community Hub when the South Reading Leisure Centre closed for development in May 2006. Also during this time Sempai Carl Spiller achieved the 'Student of the Year Award 2005' and went on to be awarded his 1st Dan Black Belt in May 2006.

In June 2006 Sensei Kenyon relocated to Canada and Sensei Barry Wilkinson returned as Senior Instructor for the club.
In October 2006 Sensei Barry Wilkinson returned to his Farnham Wado Karate Club and Carl Spiller, Rob Barrett and Rebecca Moreland took on the role of instructing.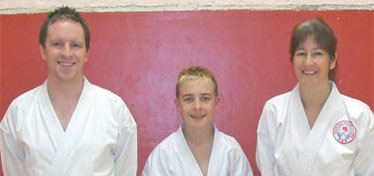 Rebecca continued to instruct at the club until 2010.
In 2015 Carl left Reading Wado Kai karate club to start a career with the Royal Air Force.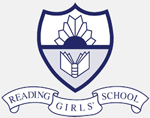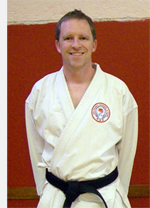 After 13 years at South Reading Youth & Community Centre, the site was closed for major refurbishment. In November 2017 the club moved to Reading Girls' School.
Due to the Covid 19 pandemic we closed the karate club for nearly 15 months from 19th March 2020. As restrictions eased we reopened Reading Karate Club on the 7th June 2021.
Unfortunatly Reading Girls' School were not accepting bookings, but we were luckily able to return to our old home of South Reading Community Hub (previously the South ReadingCommunity Centre).
From October 2006 to the current day, the club instructor has been Rob Barrett (3rd Dan, Black Belt). more›
Reading Wado Kai Karate Club is a member of England Wado Kai with karate clubs throughout the country. England Wado Kai is a member of Karate England and is affiliated to the Federation of Wado Kai Europe and to JFK Wado Kai Japan.