Starting Karate

- Free first lesson

If you are interested in taking up Wado Kai Karate, Readig Karate Club offer a free first lesson to all new students. All you need to start are some comfortable clothes (tracksuit and tee-shirt) and maybe a bottle of water.
Our adult and children's karate classes are currently nearly full. Please contact us if you are interested in starting with the karate club to check if there are available spaces.
Style of Karate

At Reading Karate Club we train in Wado Kai Karate. This is a softer style of karate which focuses on technique and less on physical strength. This means that you do not have to be strong to participate and the style is ideal for everyone, irrespective of age, fitness or sex. However this does not make Wado Kai Karate a weaker style, it is still an extremely effective method of self defence. more›
Karate Classes
We run two karate classes in Reading each Monday, one for children and one for adults. For details on each of the classes please use the links.
Watch a karate class
We understand that the hardest step to make is the first one through the dojo door, so if after browsing the site you are still unsure whether Wado Kai Karate is for you, why not pop down on Monday to watch a lesson and see what it is like. You're more than welcome to either join in or sit at the side and watch.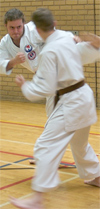 You will be treated with respect, courtesy and patience at all times. Everyone was once a beginner so we all pledge to help make it as easy and enjoyable as possible.
The effects of karate
Karate can make very positive changes to your life, teaching discipline, etiquette and respect for all.
Physically karate training enhances strength, coordination, stamina, balance and flexibility. It can improve both the quality and longevity of your life and it will make you feel happier and more alert.
As well as developing your body karate also trains the mind, resulting in improved self-awareness, discipline, confidence and will-power.
More information
Please browse through the site and if you have any questions please visit our FAQ page or contact us.