Rebecca Moreland
Rebecca started karate in the January of 2002. It was her sons who originally wanted to start karate so Rebecca bought them along for a taster session. She decided to take it up herself after seeing what went on even though her sons weren't interested. She also decided that it was time to keep fit.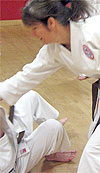 Rebecca's sons have since taken karate up and have progressed to junior brown belts.
After 6 months Rebecca passed her yellow belt in June 2002, orange in Sept 2002, Green December 2002, Blue May 2003, Purple December 2003, Junior Brown December 2004, middle Brown September 2005 and Senior Brown in December 2006.

In October 2006 Rebecca took on the responsibility along with Rob and Carl to run the Reading club and become a senior instructor, teaching at the South Reading Youth and Community Centre after the departure of Sensei Wilkinson.

Rebecca gets personal satisfaction from passing on what she's learnt to the lower grades and has a massive sense of achievement when the youngsters pass their syllabus gradings.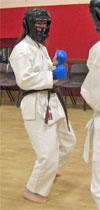 Rebecca is also a full time wife to husband Gary and mother to three boys aged 15, 13 and 10. She also works as a LSA (learning support assistant) with disabled children at Ryeish Green Comprehensive School.

Rebeccas other hobbies when she has time are riding her Harley Davidson motorbike, rock 'n' roll conventions and cooking.

In September 2009 Rebecca was awarded the prestigious black belt grade of Shodan, following an assessment at the 2009 England Wado-Kai Karate Autumn Course in Lyme Regis.